BBPS Billers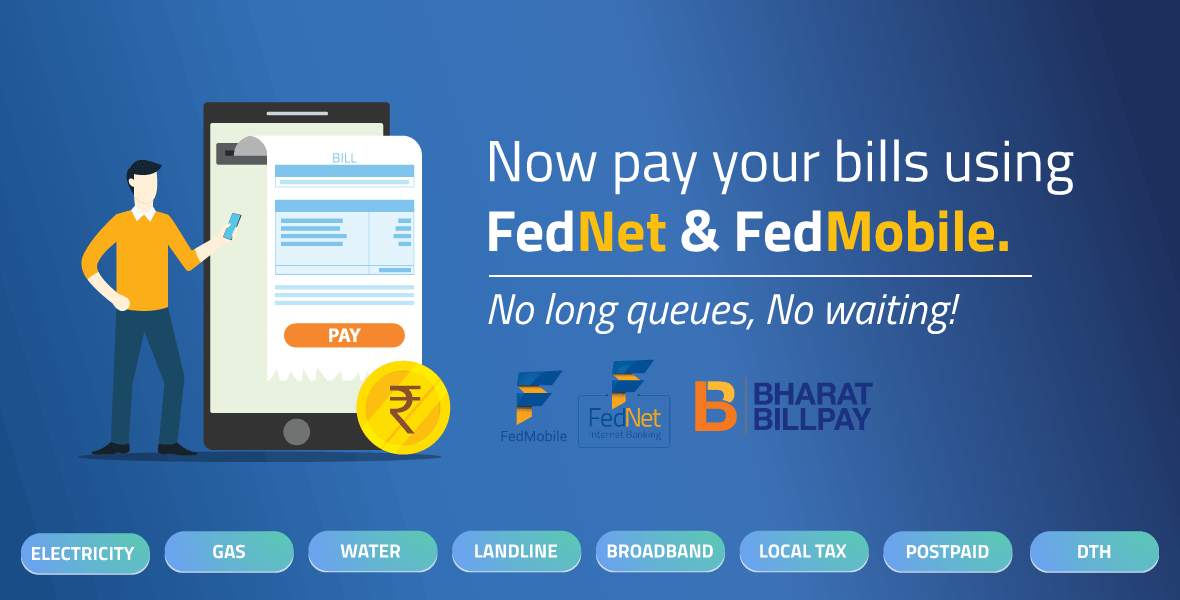 Enjoy the convenience of making payment towards electricity, gas, DTH and all other utility bills through FedMobile and FedNet. Access to over 130 billers across various categories.
Electricity Bills
Gas Bills
Mobile Post-paid Bills
DTH
Landline
Broadband
Municipal Tax
Water
Benefits & Features
Easy and hassle free process
No need to wait in long queues at collection centres
Two different payment modes using FedMobile and FedNet which can be accessed anytime, anywhere.

Payments made right up to the due date.
Adani Electricity Mumbai Ltd
Ajmer Vidyut Vitran Nigam Limited
Assam Power Distribution Company Ltd
Banglore Electricity Supply Company
BEST Undertaking
Bharatpur Electricity Service Limited
Bikaner Electricity Supply Ltd
BSES Rajdhani Power Limited
BSES Yamuna Power Limited
Calcutta Electricity Supply Corporation
Chamundeshwari Electricity Supply Company
Chhattisgarh State Power Distribution Company Ltd.
Dadar & Nagar Haveli Urja Vitaran Nigam Limited
Dakshin Gujarat Vij Company Ltd
Dakshin Haryana Bijli Vitran Nigam Limited
Daman and Diu Electricity Department
Eastern Power Distribution Company of Andhra Pradesh Ltd.
Gulbarga Electricity Supply Company
Himachal Pradesh State Electricity Board
Hubli Electricity Supply Company
India Power Corporation
Jaipur Vidyut Vitran Nigam Limited
Jamshedpur Utilities and Services Company
Jharkand Bijli Vitran Nigam Ltd
Jodhpur Vidyut Vitran Nigam Limited
Kanpur Electric Supply Co. Ltd.
Kota Electricity Distribution Limited
Madhya Gujarat Vij Company Ltd.
Madhya Pradesh Madhya Kshetra Vidyut Vitaran Company Ltd-Rural
Madhya Pradesh Madhya Kshetra Vidyut Vitaran Company Ltd-Urban
Madhya Pradesh Paschim Kshetra Vidyut Vitaran Company Ltd.
Madhya Pradesh Poorv Kshetra Vidyut Vitran Company Ltd-Rural
Madhya Pradesh Poorv Kshetra Vidyut Vitran Company Ltd-Urban
Maharashtra State Electricity Distribution Co. Ltd.
Meghalaya Electricity Board
New Delhi Municipal Council
Noida Power Company Ltd.
North Bihar Power Distribution Company Ltd.
North Eastern Electricity Supply Company of Orissa Limited
Paschim Gujarat Vij Company Ltd.
Punjab State Power Corporation Limited (5)
Sikkim Power-Rural
SNDL Nagpur
South Bihar Power Distribution Company Ltd.
Southern Electricity Supply Company Of Orissa Limited
Southern Power Distribution Company of Andhra Pradesh Ltd.
Tamil Nadu Generation and Distribution Corporation Ltd
Tata Power Ajmer
TATA Power North Delhi Power Limited
The Tata Power Company Ltd.-Mumbai
Torrent Power
Tripura State Electricity Corporation Ltd
Uttar Gujarat Vij Company Ltd.
Uttar Haryana Bijli Vitran Nigam Limited
Uttarakhand Power Corporation Ltd
UttarᅠPradesh Power Corporation-Rural
UttarᅠPradesh Power Corporation-Urban
WESCO
West Bengal State Electricity Distribution Company Limited
Govt. of Goa Electricty Dept
Nagaland State Electricity Board
Energy and Power Department Government of Sikkim-Urban
Manglore Electricity Supply Company
Mahanagar Gas Ltd.
Gujarat Gas Ltd.
IndraPrastha Gas Ltd.
Adani Gas Ltd.
Siti Energy
Tripura Natural Gas Ltd
Haryana Gas Distribution Ltd-Kapil Chopra
Sabarmati Gas
Vadodara Gas
Unique Central Piped Gas
Maharashtra Natural Gas Ltd
Charotar Gas Sahakari Mandali Ltd
Aavantika Gas Limited
CENTRAL UP GAS LIMITED
Indian Oil-Adani Gas Private Limited
Gail Gas Ltd
IRM Energy Pvt. Ltd
Dish TV
Tata Sky Ltd
SUN Direct
Videocon DTH
BSNL Landline
MTNL Landline
Tata Teleservices Ltd. Landline
Bharti Airtel Ltd. Landline
Delhi Jal Board
Uttrakhand Jal Sansthan
Urban Improvement Trust- Bhiwadi
Municipal Corporation of Gurugram
Hyderabad Metropolitan Water Supply and Sewage Board
Municipal Corporation Jalandhar
New Delhi Municipal Council
Banglore Water Supply and Sewage Board
Bhopal Municipal Corporation
Indore Municipal Corporation
Gwalior Municipal Corporation
Jabalpur Municipal Corporation
Municipal Corporation Ludhiana
Surat Municipal Corporation
Ujjain Nagar Nigam
Pune Municipal Corporation
Greater Warangal Municipal Corporation
Tikona
Connect Broadband
Hathway Broadband
Atria Convergence Technologies Pvt Ltd
Nextra Teleservices Pvt. Ltd.
Spectranet
TTN Network
Bharti Airtel Ltd. Broadband
Municipal Corporation Jalandhar