BSE:
NSE:
Cash Passport Travel Card
Federal Bank presents Cash Passport, the ultimate travel card solution for our customers. Now you can enjoy your dream holiday spots, dine out with your family and friends, and forget the worries and hassles of converting currencies. With Cash Passport, enjoy borderless banking from Federal Bank. Cash Passport is a prepaid, foreign currency Travel Money Card from Federal Bank designed with the needs of the traveler and their destination in mind. The card is Chip and PIN protected and can be used at over 30 million ATM's and Merchants globally who display the MasterCard Acceptance Symbol (excludes use in India, Nepal and Bhutan).
Download Form Register Your Card Login Check Balance Check transaction limits
Features
How to Apply
How to Register Your Card
How to Login & Check Balance
Benefits
Fees and Service Charges
24x7 customer support numbers
Control
Lock in the value in GBP, EUR and USD to avoid currency fluctuations

Greater control of spending – great for budget control

Unused funds can be reclaimed upon return or saved for next trip (within FEMA rules)

The card can be reloaded (within FEMA and card limits)
Convenience
Easy to obtain – No bank account is required

Unlike traveller's cheques or cash, no need to carry ID or find a Money changer

Access to cash 24 hours a day at over 1.9 Million MasterCard ATM's worldwide

Issued instantly over the counter and is re-loadable
Security
Chip & Pin protected, for enhanced security

Not linked to a bank account and no value held on the card itself

Free emergency card replacement available if both cards lost or stolen at no cost

Emergency cash disbursement available in as little as 20 minutes if the card is lost/stolen at no cost, up to the available balance on the Card and subject to availability

Second back up card free of charge.
Emergency Assistance
24x7 Customer Support available for:

Lost / Stolen Card

Doctor Assistance

Legal Assistance

Interpreter Services

Sending Messages Home

Access to Emergency Funds
*Cash Passport cards can be used anywhere MasterCard is accepted worldwide. In some countries restrictions may apply.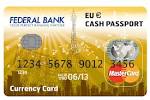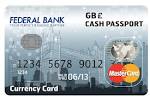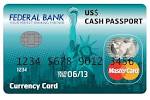 If you are a first time user, you need to register your card. For registering your card, please click the link given below.
After registration, you can login to your profile to view the balance.
How to Check Balance
Balance on your Cash Passport can be checked anytime anywhere by logging on to the Cash-Passport page.
Note: If you are a first time user, you need to register first and then login with your credentials.
To view your cash balance please click the link below.
Cash Passport differs vastly from Travelers Cheques or Credit and Debit Cards in terms of convenience of withdrawing money or reloading cash and provides additional advantages of locking in exchange rates avoiding exchange rate fluctuations enabling users to travel abroad in peace.
Cash Passport Vs Travelers Cheques
The Federal Bank Cash Passport is much more convenient than travelers cheques.
Use it to withdraw money directly from millions of MasterCard ATMs
Make direct payments to millions of merchants worldwide (other than in India, Nepal and Bhutan, or for payment of goods in Indian Rupee or the currencies of Nepal and Bhutan)
Reload the Card with more funds, ahead of your next trip
Lock in the exchange rate on the day of (re)load, thereby avoiding possible exchange rate fluctuations or variances (when used in the currency of your destination) during your trip and allowing for tighter budget management
How does Cash Passport differ from Credit cards and Debit Cards?
Separate Accounts: Accounts remain separate as the Federal Bank Cash Passport is not linked to any of your bank or credit card accounts
Secured Identity: The Card does not have your name or any other personal details on it, so your identity is secure if the Card is lost or stolen
Avoid Exchange Rate Fluctuations : Cash Passport is available in foreign currencies for major destinations, allowing you to lock in the rates of exchange at the time of (re)load thus avoiding exchange rate fluctuations
Country
Toll Free Number
Country
Toll Free Number
Australia
1800 098 231
Singapore

800 4411 256
Germany

0800 1800 756
South Korea
00798 4434 1279
Hong Kong
800 966 321
Switzerland

0800 563 428
India
000 800 100 7960
Thailand

001800 442 212
Japan

00531 780 221
UK

0800 056 0572
New Zealand
0800 444 691
USA/Canada
1 877 465 0085
Other Countries +44 207 649 9404