Corporate Blog
Welcome to the official blog of Federal Bank. There are hundreds of videos available on internet each propagating their views on the product, which may not be true always. It is therefore the bounden duty of Federal Bank to disseminate the correct, real, 100% authenticate information on the Bank's various products from the customer's point of view. This led to the creation of our official Corporate Blog wherein customers can read the in-depth analysis of our various products and arrive at an informed decision. Stay tuned to our regular updates.
Back
Federal Bank enables Utility Bill Payment Services in its Cross Border Remittance Platform
In September 2022, Reserve Bank of India permitted foreign inward remittances to be received under the rupee drawing arrangement (RDA) through the Bharat Bill Payment System (BBPS). Consequently, Federal Bank, one of India's leading Private Sector Banks, has tied up with BBPS to facilitate Utility Bill Payment services for Non-resident Indian Diaspora. This arrangement enables overseas remittance partners (Exchange Houses and Banks) to pay Indian utility bills of over 20,000 billers in more than 20 categories in a cost effective and convenient option. Federal Bank launched this facility, first of its kind, in association with Bharat BillPay Limited (NBBL), the wholly owned subsidiary of National Payments Corporation of India and Lulu International Exchange at the Global FinTech Festival in Mumbai on 20th September, 2022.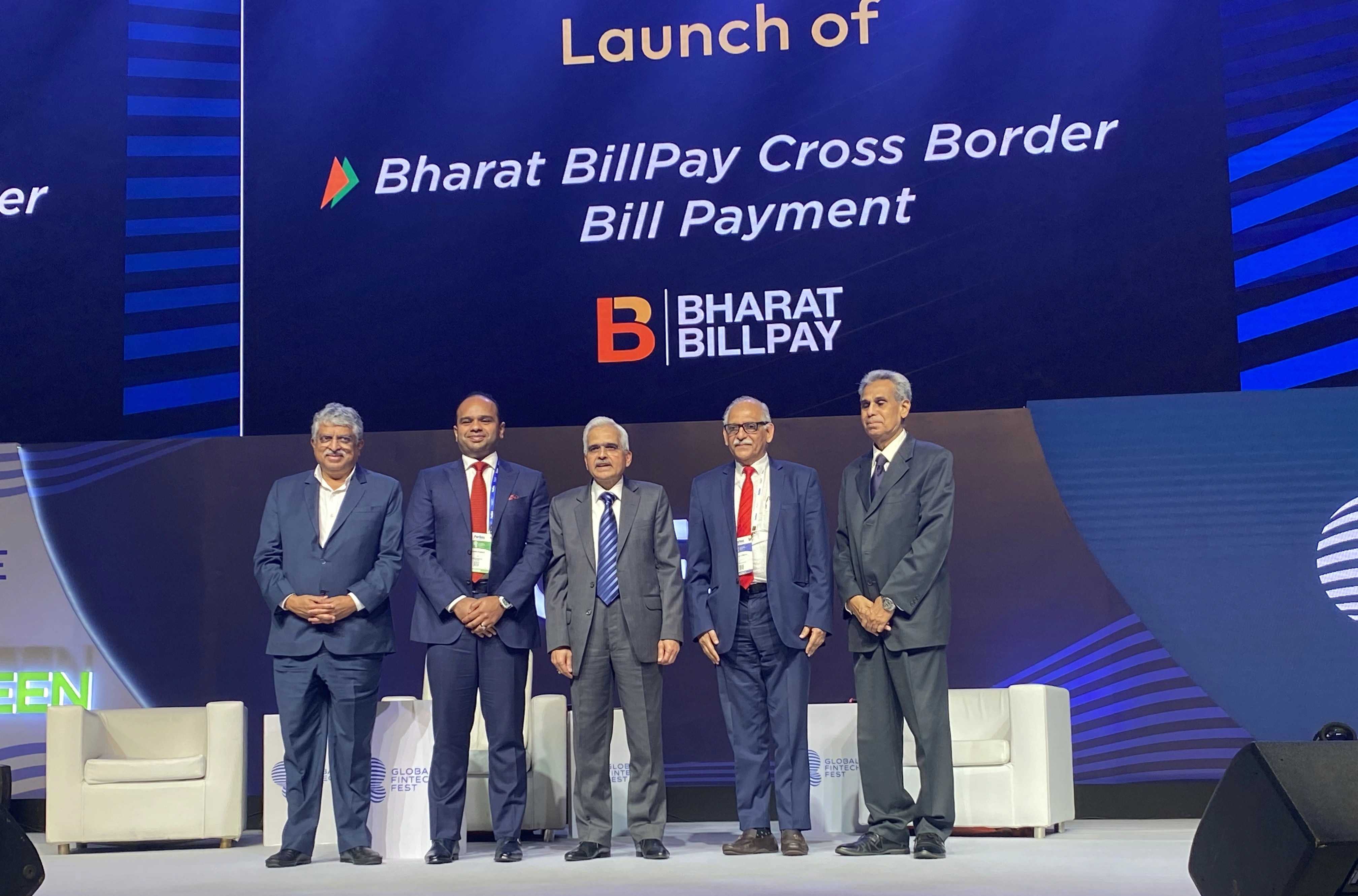 Photo: Shaktikanta Das, Governor, Reserve Bank of India launches Bharat Billpay Cross Boarder Bill Payment facility introduced jointly by Federal Bank and Lulu International Exchange, at the Global Fintech Festival held at Mumbai in the presence of Ashutosh Khajuria, Executive Director of Federal Bank, Nandan Nilekani, Ahairamn Infosys & Advisor to NPCI, Biswamohan Mahapatra, Chairman NPCI and Adeeb Ahmed, Managing Director- Lulu Financial Holdings.

Shalini Warrier, Executive Director at Federal Bank, commenting on the occasion said "We are delighted to be the first mover in launching this much -awaited facility for Non-Resident Indian Diaspora in collaboration with NBBL and Lulu International Exchange at the Global Fin tech Festival in Mumbai. The direct payment facility in cross border transactions has optimised the digital payment ecosystem and will equally delight the beneficiaries as it enables seamless bill payment."  
 
Noopur Chaturvedi, CEO of NPCI Bharat Bill Payments Ltd, commenting on the occasion said "We thank the RBI for their support in making inward 'Cross Border Bill Payments' solution available on the BBPS platform. BBPS is a one-stop payment platform for all bills providing an interoperable and accessible "Anytime Anywhere" bill payment service with certainty, reliability and safety of transactions. This facility will go a long way in empowering the Non-Resident Indians (NRIs) to make bill payments on behalf of their families in India. We congratulate Federal Bank and Lulu International Exchange for coming together to be the first to launch cross border bill payments on the Bharat Bill Payments network.
Federal Bank has a market share of 21% in personal inward remittance space in the country. With the exclusive launch of this product, Federal Bank expects to strengthen its market share in the remittance business. The utility bill payment arrangement would be extended to all remittance partners shortly.